Design Sport shop Jaquet by WSBDESIGN.COMers
Wim Jaquet Sport is famous in the World of Sport! 3500 M2 Sport: WSB created a sport palace in the region Amersfoort with famous brands.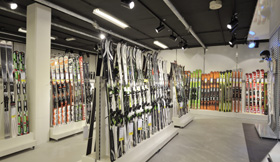 WSB Shopfitting Group is responsible for the Retail Design of the Shop Concept and the shopfitting of the several Sport-Worlds. For more information on sport shops in your country: WSB Shopfitters, the top in Sport.
Sport shops and WSB Shopfitting Group: a perfect match in a value for money that many retailers surprised!
Presentation systems in sports shops
WSB knows all types of presentation systems in sports shops: Hockey presentations, shoe presentations, football presentations, Mesh containers, skating presentations, Ski presentations, bicycle presentations, sunglasses presentations, Board presentations and many more. Everything has been specified already.
References Sport Shops:
Realization
Location Amersfoort (NL)
Time 2 weken
Size 3500 m2
Delivery WSB
Design WSBDESIGN.COMers
Development WSB Interieurbouw
Branche Sport
More information?