Design Fitness and Sport Health Beauty and Wellness Centre
Sportcentre Julien is a beautifull WSB Design. WSB created a space for customers to relax, to make contacts, to improve health. The result is distinctive, fresh and last but not least: It is a commercial success!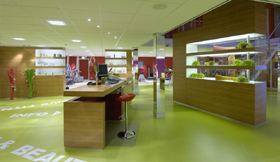 interieur sport
Realization
Location Lienden
Time 4 weken
Size 2500 m2
Delivery 2010
Design WSB
Development WSB Interieurbouw
Branche Fitness
More information?